Panoramic AI Skin Analyzer
This complexion analysis device provides highly precise, speedy, and personalized complexion analysis experience.
3s
Take only 8 seconds to capture 98% of the facial image
3%
Rebuild 99% of real skin texure in 3D facial image
5
Up to 17 facial skin metrics are precisely measured and analyzed
Available Systems: iOS / Android
Patented Skin Analysis Technologies Prevailing in the Industry
Meitu has extensive experience developing imaging hardware since 2013. MeituEve skin analysis system has integrated the industry's most advanced techonologies to provide a premium service to both customers and clients.

Fast Capture
3 HD cameras shorten the scanning time into 8 seconds
Pantone Color Calibration
A Pantone color card to accurately measure the original skintone

Smart & Easy
A smart alert tone guiding the scanning process

Comfortable Scan Experience
A chin holder that fit various face shapes makes the scan process standard and comfortable
Reveal the Skin From Every Angle
Three HD cameras are placed to the left, middle and right of the device to capture the facial image in one shot. Exclusive 3D facial modeling restores the original texture of the front- and sideviews to reveal the skin from every angle.
Most skin analysis machines only have one camera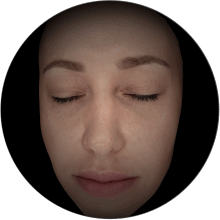 MeituEve has 3 HD cameras to offer a faster and accurate face scan process
Highly Accurate Pantone Color Card
A built-in customized Pantone color card eliminates the influence of ambient light while making the face appear as realistic as it would be to the naked eye under a standard light source. The stability offered by multiple-testing is a trend that is currently prevailing in the industry.